6 Hacks To Blend Hair Extensions with Short Hair Seamlessly
If you want longer locks, hair extensions can help you achieve your desired length. If you have short hair, extensions are a great way of adding length, so you can change up your hairstyle whenever you feel like something different.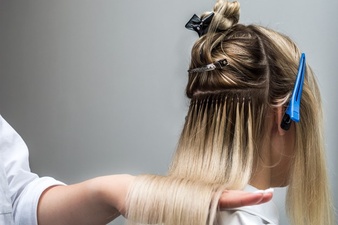 When wearing hair extensions, the trick is to blend them in with your short hair so that they look natural, and the following tips will help you master this art:
Choose A Thick Set
A thicker set of extensions will provide you with a fuller head of hair, and your locks will instantly look more voluminous. Don't be afraid of using different sets because a pair will always provide you with better results. Thicker sets will also help your hair transition from its shorter pieces to the longer ones more seamlessly, so always choose thicker extensions because you will need more hair if you are working with a shorter length.
Tuck The Bottom Section Of Your Hair
We all have those pesky short pieces of hair located at the nape of our neck, and these pieces somehow refuse to cooperate. Pin the bottom section of your hair away by braiding or twisting it first and pinning it flat with bobby pins. This way, these shorter hairs will not get in your way when you clip in the first weft of extensions.
Blend Different Colours
Using two sets of different colours will add dimension and will create a beautiful look when you blend and layer the extensions together. Doing this will trick the eye by adding depth and will allow you to blend your hair extensions with highlights or multi-toned hair. When mixing and matching colours, make sure you alternate the two colours when clipping in your extensions so that you achieve a perfect blend that looks natural.
Tease Your Roots
This will provide you with added grip and is ideal for those who have finer hair. If you find that you need some extra hold at your roots, tease them by back combing your strands because this will add more grip to your natural hair.
Go Higher Than You Normally Would
When clipping in hair extensions for short hair, you will have to go higher than usual so that you cover as much of your natural short hair as possible. This means your extensions will sit higher up on your head, so don't be surprised by this aspect.
Add Curls Or Waves
This will help blend your shorter hair strands to the longer strands of the extensions and will help create a seamless look that is natural. Curl your extensions before you clip them in to save time.
Whatever hair style you're after, Hollywood Hairdressers can help! We can help you achieve the look you want, so if you are interested in working with a reputable barber or hairstylist and are in the Saskatoon area, contact our salon today!