Are you looking for the best barbershop in Saskatoon? Whether you're looking to freshen up your hairstyle, groom your beard, or indulge in some pampering, choosing the right barbershop can make all the difference. But with so many options available, the decision can feel overwhelming. Fret not! In this guide, we'll walk you through some easy-to-follow tips and tricks to help you discover the best barbershop that suits your needs and leaves you feeling groomed. Let's get and choose the Best Barbershop in Saskatoon.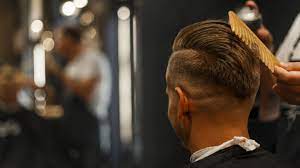 The Best Art of Grooming: How to Choose the Best Barbershop
Visiting the barbershop can make you feel wonderful and happy. A good and not-too-expensive barbershop offers more than a regular haircut. It's all about the nice environment, pro experts, and the perfect grooming experience around you. Many options are available, but finding the best barbershop can be overwhelming. Don't worry anymore! In this guide, we'll provide you with top-notch tips to help you choose the best barbershop for your grooming needs when you need our services.
From Shaggy to Suave: Unveiling the Secrets to Finding Your Ideal Barbershop
Are you tired of leaving the barbershop disappointed with your haircut? Or you've never had a perfect grooming experience in your life? Selecting the best barbershop is key to achieving the perfect smart look. But it's not about the trendy décor or high-end products – there's more to consider. In this friendly blog, we'll share some great tips to help you find the perfect barbershop in Saskatoon. Here you can transform your look from shaggy to suave first.
How to Nail the Selection of the Best Barbershop in Saskatoon
Your hairstyle indicates your personality and decent life, so choosing a barbershop can be a crucial part of your life. Whether you want a classic haircut or a stylish look, the right barbershop will meet your grooming needs and make you look smart and fresh. But, with so many choices available, it can be overwhelming to decide which one is best for you. Great news, no need to worry more! Hollywood, Saskatoon's finest modern barbershop is here to help you at the right time. Read on to discover a few dynamic savvy tips that will guarantee a mane makeover than before.
Trimming Difficulties? Choosing the Best Barbershop to the Rescue in Saskatoon.
Are you tired of dealing with uneven beard trims? The secret to a great grooming experience is choosing the best and most affordable barbershop that fits your preferences. A skilled and welcoming barbershop can turn your grooming troubles into satisfying triumphs. In this blog post, we've put together some helpful tips to guide you in finding the best barbershop in Saskatoon to solve your grooming dilemmas.
Proven Ways to Select Your Grooming Hollywood Hair Salon Saskatoon.
Finding the best barbershop can be tricky, but it's like discovering a special place where you feel good, get refreshed, and look smart when you leave. On top of that, all barbershops are not created equal. Your ideal haven should combine top-notch expertise, ambiance, and an understanding of your dream style. In our Hollywood Hair Salon Saskatoon guide, we present our all proven ways to ensure your barbershop bliss to keep your grooming experience for a long time.
FAQs – How to Choose the Best Barbershop
What should I look for in a barbershop to ensure it's the best fit for me?
When searching for the best barbershop, you should take critical issues into account. Find a great Barber in Saskatoon! They have skilled barbers who can do your favorite haircut and give you awesome grooming tips. The place is clean, cozy, and welcoming, making your grooming experience enjoyable.
Is it essential for a Barbershop in Saskatoon to use high-quality grooming products?
Using high-quality grooming products can make a big difference in how your haircut and grooming turn out. Affordable premium products are designed to nourish your hair and skin, giving you a healthier and long-lasting look. The best Saskatoon Barbershops invest in reputable brands that cater to different hair types and styles in recent times.
How can I identify a skilled and expert barber who can ensure me the best haircut?
If you would like to find a skilled and a skilled barber in Saskatoon, please have a look at your review pages with patience. You can ask your friends, family, or coworkers for good barbers they've been to lately. Before getting your haircut, it's a good idea to visit the nearest barbershop and talk to the barber. This way, you can see if you like their skills and how they communicate with you.
Should the barbershop's located while making my decision?
The barbershop's location can be a great factor, especially if you passing a busy individual or have a tight schedule maintainer. Seeking a barbershop that is located near your home or workplace or your dwelling places, makes it easier to fit basic and regular grooming appointments into your tough scheduled routine.
Is it essential for a barbershop to have a varied menu of services?
While a barbershop's first and primary focus is haircuts, having a diverse menu of services can be beneficial for its various clients. Seeking a barbershop that offers intensive services such as beard trims, shaves, hair styling, and even grooming consultations. This ensures that all your grooming needs are getting under one roof, making the experience more affordable and enjoyable.
So, always keep in touch with our Saskatoon Barbers' top-notch noble services that we ensure always whenever you need grooming services from Hollyood Saskatoon within your tough schedule life.